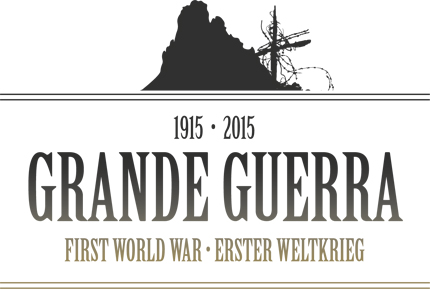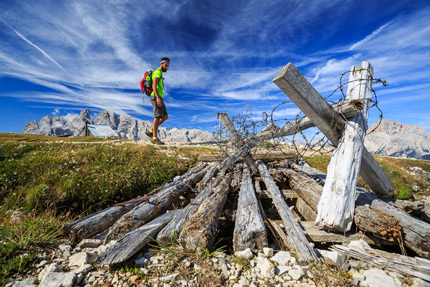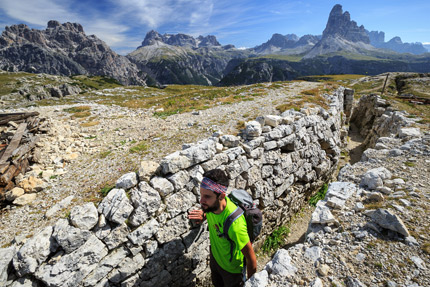 GUIDED TOURS TO MONTE PIANA
Reservations: before 17.00 the previous day at the Consorzio Turistico Tre Cime Dolomiti GUIDED TOUR OF THE FIRST WORLD WAR SITES
Meeting point at the Church near Bosi's Refuge  at 11.00  – the shuttle to the Rifugio Bosi is not included in the price. 
Minimum numbers of participants 4 
Consorzio Turistico Tre Cime Dolomiti +39 0435 99603
Associazione Turistica Dobbiaco +39 0474 972132
---
MUSEUM PALAZZO CORTE METTO – via Dante 4, Third floor (sede ANA Sezione di Auronzo)
Collection of finds and photos of the two World Wars  
Info: ANA AURONZO +39 329 1696068
The First World War left deep marks  in territory of Auronzo Misurina. The line of the Austro-Italian front passed right on the mountains surrounding the valley: trenches, walkways, monuments and finds are still visible, particulary in Monte Piana, with its "open-air mesuem" and the historical museum of Rifugio Bosi.
The Gallerie del Monte Paterno, next to Tre Cime,are an amazing feat of military engineering.
Military feats such as forts, tunnels and posts dating back to the First World War, however never used, that can be seen in Vigo on Col Ciampon and on Monte Tudaio, while beneath it you may visit the works in caves of "Vallo Alpino Littorio",made by Mussolini between 1939 and 1942.
The fortification of Col Vidal  on Altipiano of Pian dei Buoi in Lozzo, completed in 1914, were used for the surveillance and defence of the Piave valley . Are made of an elaborate set of artifacts , including two barracks with armored battery, in addition to the works complying (trenches, caves, anti-aircraft stations, cannon and bunker pitches).
The entire project "Parco della memoria" of Pian dei buoi is visible on the site: www.lozzodicadore.eu/parcodellamemoria/

Just to reach Col Vidal was build the "Strada del Genio", called like this because was build by Genio Militare. The artery goes up for 18 kilometers with a difference in level of about 1.100 meters with a succession of hairpin bends and dry walls, from the inhabited zone of Cadore lozzo in the direction of Sorasale and Le spesse to reach 'the mountain.