LOZZO DI CADORE: THE COUNTRY OF THE MILLS
The "via dei Mulini" presents the testimonies of a past in which water was used as a driving force in the processing of wheat, wool, iron and timber.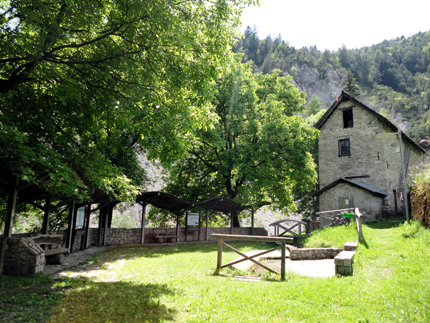 The hydraulic-power factories along the Rio Rin are one of the best examples of industrial archeology in Cadore and the recent reconstruction of the wooden irrigation ditch and the wheel of one of the mills allows us to understand more deeply the historical value of the place and to admire its beauty.
Today you can see along the canal the ancient canalization and three mills, one of which is fully functional, in addition to the buildings once used for sawmills and forges.
The path of the mill's irrigation canal also includes an interesting visit to the "Baldovin Carulli" electric station, active since the early 1900s: up until the 1990s it supplied electricity to a large part of the ancient Lozzo village, while today it serves around 200 users.