The Somadida Controlled Nature Reserve in Palùs San Marco mid-way between Auronzo and Misurina, is the largest forest in the Cadore area and one of the most beautiful in the Dolomites.
Protected even in the fifteenth century by the Venetian Republic which took over control of it for its galley oars and ship flagpoles, it is now one of 130 protected places owned by the State.
Surrounded by the majestic peaks of Mt. Cristallo and Mt. Sorapiss and the wild summits of the Marmarole massif, it contains a nature and fauna heritage of great value.
Norway spruce, silver fir, larch and beech trees, wild berries, deer, roe deer – these are just some of the fauna and flora to be found in the reserve.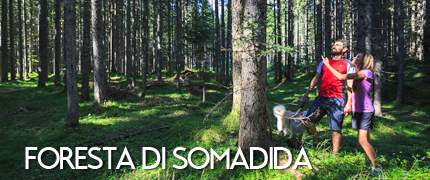 With easy footpaths suitable also for the elderly and families, since the summer of 2013 the forest has also contained an extensive 'forest library' managed by the state forest guards. The library contains audio guides for the visually impaired too or for those wanting to listen to a series of important excerpts without reading a book with hundreds of volumes by great storytellers ranging from Buzzati to Tolkein, Jack London and the great native American tales.